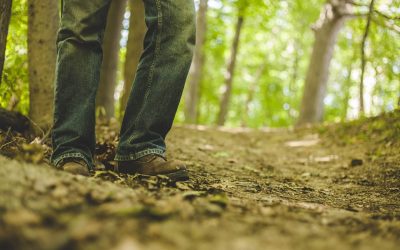 The initial garden consultation is valuable time spent with you, held on-site. We look at and discuss your individual garden and landscaping needs, taking into consideration local Mornington Peninsula landscaping environmental factors such as drought tolerance of plants, soil conditions, wind exposure, water availability and the health of existing plants. (You may like to have pen and paper at hand to jot down some notes).
You may just need advice and to be pointed in the right direction or we may recommend next steps such as a vegetation survey, general concept design or a comprehensive garden design.
Cost: We charge a fee for this consultation. At this stage, if you are interested in further work, we will give you a professional estimate of the expected cost.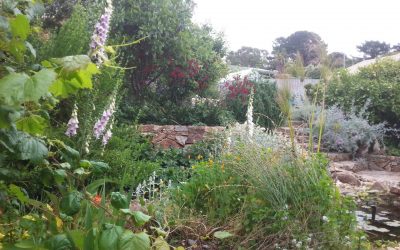 To begin on a landscape design, we first need to carry out a site survey. This involves a member of our team measuring up your site and noting physical features such as:
exposure to wind and sun,
soil type and drainage,
impact on neighbouring properties,
placement of utilities.
At this stage we also nut out the basics of the landscape design effect you want to create, for example, formal garden, cottage garden, tropical garden, Japanese garden, native garden, etc.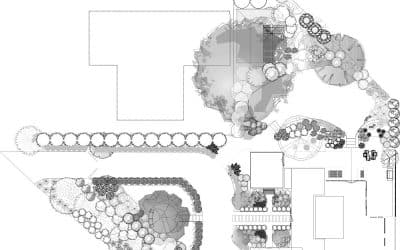 This is the base design which will be presented to you. Based on this concept, you and the designer will discuss if there are changes or additions you would like to be made.
The concept design shows the placing of the landscaping elements that you want included and their relationship with each other but does not go into extensive detail. This drawing and your feedback are then used as the base for your garden's final drawing.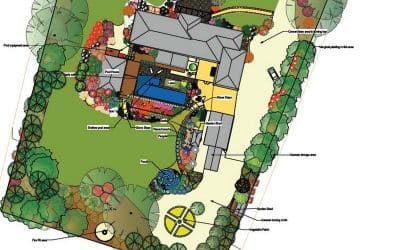 The final design specifies the details of your garden, including:
exact placement of all elements of the design, including plants, pergolas, driveways, etc.
exact materials to be used, such as type of paving, garden edging, stone, grass, mulch, etc.
how these materials will be used, e.g. how thickly the mulch is to be spread, or what the paving will be laid on.
If you are going to do your own landscaping or ask us to project-manage your landscaping, this drawing might not be necessary as these decisions will be made as you go. If however, you are going to get quotations from various contractors, you will need this detail to get quotes for your exact specifications.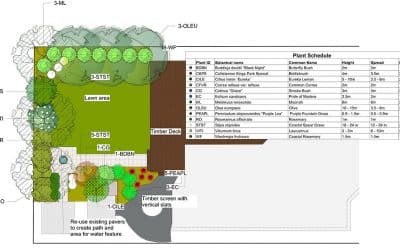 The planting plan gives a full list of the plants will be used and where they will be placed. It will have a plant schedule (either on the drawing or attached). The plant schedule lists:
the plant names,
the quantities of plants, and
plant pot sizes.
If you are not confident in your knowledge of plants, it is extremely valuable to have a plan created. A well-designed planting layout will not only look good but will also be professionally created to meet your needs including water usage, maintenance and lifestyle.
Make Your Dream Garden a Reality!
Talk to Clive, our Principal Designer & Landscaper.
Further Drawings
There are a number of other drawings that may be needed by your local regulations, such as engineers' drawings for retaining walls, or other drawings such as elevations and perspectives to make all drawings easier to understand.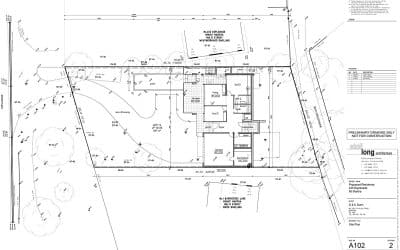 If you need retaining walls that are more than 1 meter high, an engineer is officially required to draw up and specify the construction method. Retaining walls can be the most expensive part of a garden and the last thing you need is to have it fall down!
You also may also need construction drawings for buildings and structures you are putting on your property, always check with your local council on these details.
Construction drawings also help with the tendering process,  communicating how you expect the different aspects to be constructed and giving clarity to contractors.
Projections & Perspectives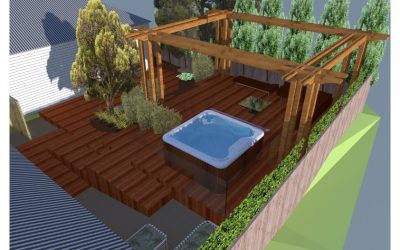 Projections:
An example of a projection is elevations. These are drawings as if viewed from the side but contain no perspective, in that objects do not get smaller the further away they are.
Perspectives:
These drawings show the design as if it were seen by us, in that objects get smaller in the distance.