Why consider a water garden? Well, what is more soothing to the soul than to reflect upon or hear the sound of water? This is why so many of us see a water feature as an integral part of our garden.
Luckily, we live in an era where we have so many choices, from a majestic waterfall cascading over rocks into a pool, to water tinkling in a small courtyard pond. One of my favourite gardens, Ripponlea in Melbourne, has a landscape design featuring a wonderful myriad of man-made lakes; with a children's grotto that leads through a tunnel on to a small beach under a rock waterfall – pure magic!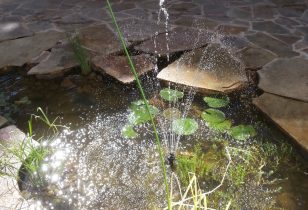 In years when we've just come out of a lengthy drought to a deluge of rain it doesn't take long to forget all those key words we have been bombarded with – drought tolerant, water-wise, sustainable use of water – phrases that I am sure will be back, as we are a land of droughts and flooding rains. Though water awareness is always to be considered, many water features such as fountains and waterfalls use reticulated water, which is very economical when creating your water garden. We can also make a water garden work for us with the construction of a dam/lake which not only is a source of water but with clever planting can provide us with an oasis to while away many a summer's afternoon swimming, boating and relaxing.
Not all of us have the space or finances to construct some of these water features in our landscaped garden but there are numerous readymade water structures on the market. These can be easily assembled at home to provide your garden with an element of water. A small fishpond is another idea and remember that  planting aquatic plants is essential to oxygenate still water.
At Abben Art we can provide both specialist advice on what water feature would suit your individual and landscape needs and implement its design and construction. Incorporating a water feature is a truly magnificent addition to any garden.